What is Notice board ?
The Notice Board is the window that pops up to show you a list of e-mail sent to you and is where you can see the
content of the mail quickly and easily.



To Bring Up the View Window.
Just go the Mailmoa icon

in the task tray

and click on it or right
click on it and select 'Notice Board in the menu that pops up from the icon.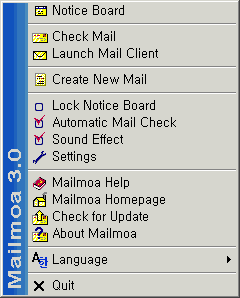 Using The Notice Board.

When the Notice Board is out, it will look like the figure below: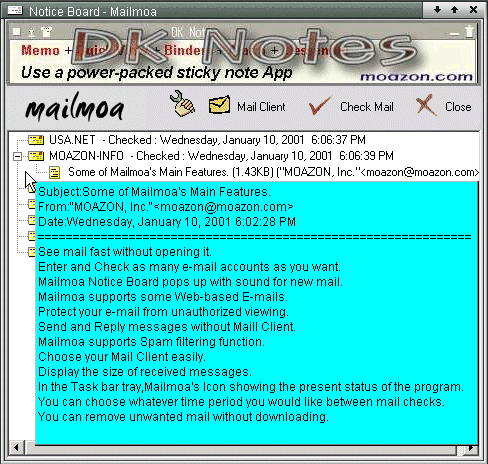 To use the Quick View feature just place the pointer over the mail you would like to see and wait a second and a quick view box with the mail content will appear. (If you are not a speed reader and the box does not stay long enough for you, you can set the length of time in "Settings" under the 'Notice Board' Tab.)


To see the mail in your default mail reader, just double clicking the entry with the left mouse button. You can see the mail through a DK Notes memo, and this feature can be disabled in the 'Settings'under the 'Check New Mail' Tab.


To delete unwanted mail without downloading, just click the pointer over the mail and push "delete" key or right click on it and select "Mail Delete" in the menu.