Outgoing server settings
To set options related to outgoing servers and Signatures.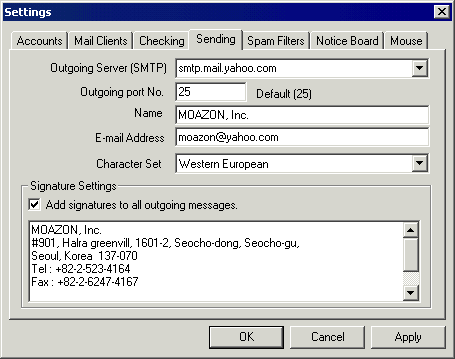 Outgoing Server(SMTP):
This is the name of the outgoing mail server for your principal email account. All outgoing messages sent from your primary account are routed through this server. SMTP stands for Simple Mail Transfer Protocol. (the SMTP server name is usually something like smtp.xxxx.com or mail.xxxx.com.)

Name:
Please enter your name as you would like it to appear in the "From" field of your outgoing message.

E-mail address:
Please enter your e-mail address which has been assigned to you by your Internet Service Provider.This address will be the address other people use to send e-mail to you.

Character Set:
Please select your language character set from the list. (Note: Mailmoa automatically sets itself from the information of installed Windows.